Reviewers seem to always think that their personal case applies to everyone and make definitive statements like "don't waste your money" or "it works". Each user will respond differently to laser light therapy for hair loss. Hair growth response will depend on the type of hair loss, skin tone, skin thickness, and dosage. Certain types of hair loss will not respond to laser light therapy, no matter what…this product and ones like it will not work for some people. If it doesn't work for you, then you may fall within this category and there's no point in telling others that it doesn't work and not to waste money. These types of products may also be less effective in people with a darker skin tone. Melanin in skin absorbs light. Likewise, melanin in skin will absorb the light coming from these products. The darker you are, the more melanin you have, and the more absorption of light…those with darker skin tone may want to increase dosage (speak with a trichologist first). About dosage, go to pubmed.com and find articles that reviewed laser light therapy dosage. You'll find that there is a very broad range of length of time and frequency of application…some articles say 2-3 times a week while others say up to 40 times a week. Once again, we're all different and dosage with respect to time and frequency will depend on the individual. A user must also consider how penetration of light into the skin has an influence on efficacy. Penetration of light will depend on the level of intensity of light, the thickness of a user's skin, and the distance of the light from the skin, (as well as the melanin concentration as stated above). The iGrow helmet has its own standard of light intensity, while other devices may have a different intensity of light. The intensity and distance of light to a user's scalp are probably the most important factors that will determine penetration of light into the skin. Optimal penetration needs to occur for this type of therapy to work. I'm assuming iGrow has figured out the optimal distance and intensity of light for best results.
It's been almost a month since my last update and as you can tell from the last two images above, no new hair… I've had an email from someone saying my pictures can be subjective and might not give the true picture. He suggested that I do a video around my head to show things better. I actually tried to do that but it's almost impossible to do it by myself so I'm sticking with the pictures.
People have used this type of hair regrowth product in clinical settings for years; and used to require booking expensive sessions at a hair restoration clinic. But given the advances in technology over the last couple years, these LLLT therapy devices, once only available to doctors and clinicians, are now available for you to use in the comfort of your own home. All of the effectiveness, none of the hassle. 

Today the iGrow is probably the most well recognized device in the industry. It is obviously a helmet device for hair regrowth. It operates with exactly 21 diodes and 30 LEDs. The 21 diodes is actually a good number for people who are just beginning to lose hair or individuals with dark coarse hair and those individuals who have not been losing hair for a long period of time basically. If you're losing hair for less than 5 years, you have dark coarse hair, or even a lot of sort of brown or medium brown hair, and again just beginning to lose it, this is a great device because you don't need a tremendous amount of stimulation to get hairs growing. You need the right amount of stimulation. I compare many cases to getting the right amount of energy to like hitting a baseball or hitting a golf ball. It's not more power. It's basically hitting the sweet spot and getting the optimal amount of energy to produce the result, and the iGrow is great for producing that I'd say probably about 70% of the time.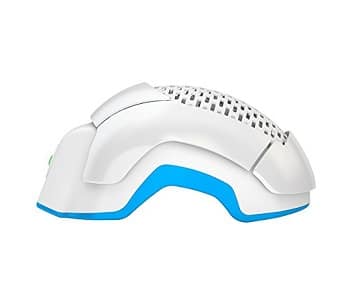 I couldn't be happier with my results from using both the iGrow and iDerma. My hairline has grown back while the overall health of my hair has improved and I feel as though I am on my way back to having the hair I had a few months before all of the stress. As for my skin, it looks younger, less ruddy, and with iDerma's hands free feature that treats the whole face in 8 minutes it is much faster and more convenient then my old hand held device. Despite being a tough business Braile tells me, "Its hearing success stories like yours and others where our technology makes a positive impact on peoples quality of life that keeps us going".
The only thing that can trip you up here is if you get it and don't use it as much as you're supposed to. If after 6 months you don't like it and end up returning it, the restocking fee will be about $120, so worst case scenario you're going to pay $20 a month to try it out and see what you think. When you look at it this way, and compare it to the cost of trying out other products, it doesn't sound like too big a risk. Plus if it works you've got a one-off payment for a hair growth solution that you can use daily with nothing more to pay.
Hello Destiny! Thank you for your review. We truly appreciate the time you took to share your experience and are so thrilled to hear you are enjoying the benefits from the easy-to-use, hands-free, iGrow! Low-Level Light Therapy (LLLT) affects everyone differently, and at different rates, especially when there can be so many variables in producing results. The good news is, the growth has only just begun! Continued use (even after the initial 6 months) will bring more healthy hair over time; however, it is not a 'cure' and requires maintenance (once a week or so) when you are satisfied with the results. Regarding the rubber nodule comfort; the 25 minute thereapies can be done thorughout the day, so use the 'Pause' feature and take it off after about 10 minutes, take a break for a few minutes (or so) to relieve any pressure on your head, and then come back and press the 'Pause' button again to continuse though another segment of time. Sometimes it's just a matter of your body becoming comfortable with a new habit. Thank you again for taking that leap of faith and giving the iGrow a try. Please let us know if you have any questions or concerns with your iGrow, we are always happy to assist!

*Results of treatment will vary from individual to individual. The information provided on this website and any of our literature is intended for informational purposes only and the information provided on this site is designed to support, not replace, the relationship that exists between a patient/site visitor and his/her existing physician. Information and opinions expressed on this website may be those of the clinicians and hair loss professionals who have written them and on the base of their education and experiences and since 2002 of clinical work at Evolution Hair Loss Institute and Advanced Trichology. See full disclaimer, click here.

All Trademarks, Registered Trademarks and Service-marks Mentioned on this site are the property of their perspective owners @ 2018 Reserved. Disclaimer: The information provided on site is intended for your general knowledge only and is not a substitute professional medical advice or treatment for specific medical conditions. You should not use this information to diagnose or treat health problem or disease without consulting with a qualified health-care provider. Please consults your health care provider with any questions or concerns you may have regarding your conditions. Your use of this website indicates your agreement to this websites published terms of use and all site policies.
​The iGrow hands-free laser LED light therapy is a Low Level Laser Therapy (LLLT) device. It makes use of red laser and Light Emitting Diodes (LED) to energize and stimulate cellular activity leading to an increased natural hair follicle uptake. 51 laser and LED light sources work together to stimulate hair follicles resulting in more vibrant hair. 

The only thing that can trip you up here is if you get it and don't use it as much as you're supposed to. If after 6 months you don't like it and end up returning it, the restocking fee will be about $120, so worst case scenario you're going to pay $20 a month to try it out and see what you think. When you look at it this way, and compare it to the cost of trying out other products, it doesn't sound like too big a risk. Plus if it works you've got a one-off payment for a hair growth solution that you can use daily with nothing more to pay. 

Recent scientific research has confirmed Mester's findings. In 2009, in a 26-week, randomized, double-blind study done on 110 patients, researchers concluded that the HairMax LaserComb, one of the earliest laser devices sold to treat hair loss, was an effective treatment for male pattern baldness. The LaserComb group showed significantly greater increases in hair density compared to the placebo (sham device) group (2).

Something we believe is that every page on the website should be created for a purpose. Our Quality Page Score is therefore a measurement of how well a page achieves that purpose. A page's quality score is not an absolute score however, but rather a score relative to other pages on the website that have a similar purpose. It has nothing to do with any product ratings or rankings. It's our internal auditing tool to measure the quality of the on the page content. There are a number of factors that determine the Page Score of a given page. Landing page quality is a factor in determining Page Score. Landing page quality generally refers to whether or not the overall page contains relevant and original content to the web page visitor. The content quality value of a web page is determined by comparing a page to known quality patterns and each pattern carries a different weighting in how it affects the overall content quality value of a page. We also factor in user generated feedback on this form plus a page quality algorithm. Since web pages content can change, the content quality value of a web page is updated periodically
iGrow mimics the same LLLT (Low Level Laser Therapy) technology used by hair clinics around the world to encourage hair to appear thicker, fuller and healthier. The revolutionary iGrow harnesses the energizing and nourishing effects of cold laser technology and LED light to dilate tiny blood vessels and increase the blood supply to the hair follicle. Through the principles of "photobiotherapy" the lights progressively improve the quality, strength and thickness of your hair in an average of 12-16 weeks. More dramatic results can be seen after a 4-6 months. Thousands of men and women worldwide have discovered the power of laser therapy treatments for the improvement in the appearance of their hair.
GrivaMax laser cap, without doubt, best enhances and prevents the degradation of  hair growth. You can trust this clinically proven product as the FDA have cleared it. The product works nonsurgical, safe, very efficient and less expensive compared to other products of its kind. Very portable and comes with a case which aids convenience for travel cases. You have a one year warranty with this product in which you can return it if you don't like it after six months of usage. The best things about the laser cap includes the fact that this product falls void of any kind of side effects.
Bought this almost 2 years ago, paid over $600 for the unit. Use of it has never resulted in any more hair on my head. It was a total waste of money, and the price was certainly not insignificant. Additionally, the unit just died on me and will not even turn on anymore....but that doesn't matter since it never helped anyway. I am totally disgusted that Amazon would even list this item on their site. This makes me think twice about the quality of the items Amazon allows to be marketed for them. Oh by the way, now I see that the price has been dropped significantly. Guess people are getting wise to this gimmick product and not buying it. 

Anthony Anderson Articles Cardiologist Celebrities Celebuzz Corporate Program Craig Nabat Dr. Oz E-cigarettes FitPerez Freedom Laser Therapy Freedom Quit Smoking System GBK Gina Rodriguez hair growth hair loss hairmax Health Howard Stern Huffington Post igrow Inventors Digest irestore iRestore Hair Growth System irestore helmet Jenny McCarthy julie Strietelmeier Las Vegas light therapy device low level light therapy Magazine Mark Cuban Media Reel Perez Hilton Pregnancy Roger Hedgecock Sharper Image Smoking Cessation Steve Wynn the gadgeteer theradome TV Commercial Video Viola Davis Wellness
Apira Science, which is a privately held company founded by Braile and two other partners not only offers the iGrow for hair growth, but is preparing to launch their latest device, the iDerma, a hands-free facial mask that utilizes a combination of 142 red (660nm) and infrared LEDs (940 nm) in both narrow and wide angle lenses that reduce fine lines, wrinkles, minimize pores, improve texture and boost overall skin health. iDerma officially launches in January but is available to purchase now on Amazon or directly from their website.
Yes! Because LLLT only focuses on stimulating your scalp and is non-invasive, there are no negative side effects when combined with other topical hair restoration programs. It is totally safe when combined with other treatments, such as Minoxidil-based products Rogaine or Finasteride-based products such as Propecia, according to two studies by Advanced Hair Clinics.
Jennifer Ahdout, MD, a dermatologist in Beverly Hills, contends that the laser comb is a "safe treatment with some mild proven benefit," which sounds pretty accurate to me. She also states that while it is not a "miraculous solution," is is an important part of her arsenal in treating pattern hair loss (7). Her opinion on laser therapy is shared, by and large, by many dermatologists and hair restoration surgeons.
Another good reason for giving low-level laser treatments a try is that they're very safe – hence the FDA "clearance" for many of them. Users report very few laser comb side effects, if any, and most are very minor, such as an itchy scalp or mild irritation. Despite some claims, LLLT therapy does not burn your scalp. Besides, many LLLT devices come with automatic shut-offs when your session has finished.