The iGrow Laser Helmet is packed with 21 laser diodes and 30 red LED diodes. The LEDs are stated to burn somewhere between the 650-670 nanometer range while the Laser diodes burn are advertised to burn at 655 nanometers. At first glance, 51 lights shining on your head sounds like a decent deal considering most laser clinics machines only have about 107 diodes. Something struck me as odd though, why use LED diodes if they have not been proven. Even though they are burning at the roughly the same wavelength they lack the power and spread that a diffused laser diode would. Besides, the science is Low Level LASER Therapy, not LED therapy. So in essence there is really only 21 lasers that are actually proven to have an effect on your alopecia problem in my humble opinion. Scientists have tested and proven that for bio-stimulation to occur 4-6 joules of power per square inch is necessary. Some will say that closer to 2-3 joules per square inch is okay but for BEST results try to get 4-6 joules of power. I read a calculation on OverMachoGrande.com that a laser comb with 9 lasers will get you 0.5 joules of power per square inch if it is used for 400 minutes per day. Yes, you read that right, 400 minutes per day just to get a measly 0.5 joules of laser light therapy! That freaking pathetic! So a rough estimate for the iGrow laser helmet power rating would be something like 1.3 joules per square inch. That is less than laughable for my $595 dollar investment.
I too am skeptical about this igrow helmet as well as some of these other mechanical products that claim to work "miracles". But being a woman with no hair on my head,no eyebrows and no top eye lid lashes; I am willing to take the risk and try one of these helmets or caps, providing I can save enough money to get one. I had a surgical procedure in October 2013 where my right ovary was removed along with a mass which was thought to be cancer. The mass was not cancerous. By Dec. 2013 I was almost completly bald and as of today I still have no hair. A few months ago my eyebrows started falling out and then my eye lashes and the hair on my arms and legs too are gone. I have been told by a doctor that my hair loss is from Alopecia. I think it's thyroid and hormones. I have decided I am going to research and do what ever I can to get my hair back as I am sick of looking at a bald me.The thing that gets me though,people look at a man who is balding or with no hair, it's no big deal. But when they see a woman with no hair or a head scarf with no visible hair showing from under it well then that's a whole different story. Some people stare,some turn away when I see them looking at me.Kids just glare as they don't know what to think. I know they have questions that are not being asked. It doesn't always bother me.But some days I do get upset,or angry when I see myself in the mirror and/or feel that the doctors just want to go by lab tests and not by what I feel or say. I don't think this website publishes your email,but if someone wants to contact me about some good results with these helmets go for it. I am on facebook under : and my name is Rita. Boyles. Happy Hair Hunting!
There have been no studies with regard to users quitting laser treatment due to the inconveniences it causes, but I'm certain many people, men and women alike, do not use their laser devices as instructed. In fact, I'd venture to say that the majority of laser products that have been sold over the last 5 years are collecting dust in closets, garages, and basements. 
"A form of alternative medicine that uses low-level (low-power) lasers or light-emitting diodes (LEDs). Other names include low-power laser, soft laser, cold laser, biostimulation laser, therapeutic laser, and laser acupuncture. Whereas high-power lasers used in laser medicine destroy or cut tissue, low-power lasers are claimed to stimulate it and to encourage the cells to function."
I didn't get that upset about my hair falling out due to the chemo. The first day it started happening, I called the person who cut my hair and she came to the house and shaved it all off. It was really pretty liberating. But unfortunately, it didn't grow back as thick and full as it had been before all the chemo and another drug I was on for about 4 years.
The iGrow is a standalone treatment which doesn't require anything additional to be effective. However, Apira Science does produce various products and accessories for purchase, which are sometimes offered as part of a "package" by sellers. I do wish you'd contacted us before leaving a negative review, since it sounds as though you simply bought a package that included a free bottle of shampoo alone.
iGrow mimics the same LLLT (Low Level Laser Therapy) technology used by hair clinics around the world to encourage hair to appear thicker, fuller and healthier. The revolutionary iGrow harnesses the energizing and nourishing effects of cold laser technology and LED light to dilate tiny blood vessels and increase the blood supply to the hair follicle. Through the principles of "photobiotherapy" the lights progressively improve the quality, strength and thickness of your hair in an average of 12-16 weeks. More dramatic results can be seen after a 4-6 months. Thousands of men and women worldwide have discovered the power of laser therapy treatments for the improvement in the appearance of their hair.
the first thing I noticed is that my white hair (I am now 77 years old), turned darker. Fist just slightly grey then almost black around the edges. My hair grows faster, looks healthier and get comments about my full head of hair all the time. I have a small bald spot on the back of my head that has had only a slight improvement and some new hair, but not radical.
The iGrow Advantage– Leverage a Patent-Pending combination of built in Laser and LEDs. iGrow Revolutionizes hair Rejuvenation. Some products use one or the other, but iGrow uses both. The result: a more effective low level light therapy (LLLT) The lasers produce a wavelength of 655 to 670 nanometers that have been shown to increase cellular activity within the follicles.
If your hair loss is mild and your main goal is to stop further hair loss, you can try lower level laser therapy (LLLT). However, if your hair loss is in an advanced stage and you want to regrow some of your loss hair, it is better to use FDA approved (instead of FDA cleared) products like Minoxidil and/or finasteride.  If you do decide to try LLLT treatment, you can also consider other similar device like Theradome and Capillus that have higher density of laser diodes and therefore can potentially work more efficiently. 
During the first couple of weeks, you won't notice much in terms of new hair growth. However, there were a number of reports stating that hair fall was significantly reduced, even during a shower. If you've ever dealt with the heartbreak that comes with washing your hair and watching hundreds of strands going down the drain, then this alone will be a huge incentive to buy. 
Using a non-invasive hair treatment, this laser cap formula does not have any competition. This laser cap works to handle all problems which leads to thinning or loss of hair. A variety of health problems could cause thinning or loss of hair. These things include: stress, the type of diet, lifestyle, androgenic alopecia, aging and a host of other things.
I've been using the i-Grow for just under 4 weeks now and the jury is still out. I am noticing some re-growth around my hairline but the new hair is very fine. I take this as a promising sign of things to come and better results than I've seen with Rogaine and similar products. Hoping that the new hair will start to grow in thicker. Have read a lot of good things about the system so based on this and my initial results, I am optimistic! Will provide future updates...
Activewear & Athletic ShoesMen's Activewear,Men's Athletic Shoes,Wo...3439 CyclingBikes,Clothing & Footwear,Parts & Access...417 Exercise & FitnessBalance & Recovery,Books & Magazines,Car...4454 Fan ShopMemorabilia,MLB,NASCAR,NBA,NCAA,NFL,NHL...24928 Golf ProductsGolf Accessories,Golf Bags and Carts,Gol...624 OutdoorsAction Sports,Boats & Water Sports,Campi...8431
​The iGrow hands-free laser LED light therapy is a Low Level Laser Therapy (LLLT) device. It makes use of red laser and Light Emitting Diodes (LED) to energize and stimulate cellular activity leading to an increased natural hair follicle uptake. 51 laser and LED light sources work together to stimulate hair follicles resulting in more vibrant hair.
The Theradome LH80 device is cordless (rechargeable batteries are included) to provide greater convenience during use, and comes with a simple power switch that turns it on. The lightweight plastic helmet comes with foam pads that allow it to fit heads of different sizes. There's also a sensor that detects whether you've positioned the helmet on your head properly.
nfortunately, both primary sources of male pattern hair loss are genes, as well as time itself, and also as we can do hardly any concerning either, lots of guys are forced to resign themselves to that they might need to go on dealing with a hairless head. Certainly, some individuals match the cut head appearance, yet however, not all males intend to need to cut their heads as a result of their hair befalling. There are a variety of therapies available particularly made to target loss of hair, as well as although a lot of these therapies can be partially effective, one advanced brand-new therapy is taking the globe by tornado. This therapy is the iGrow Laser Helmet and also it resembles absolutely nothing you have actually ever before seen or become aware of previously. In this post we'll be offering you with thorough iGrow laser reviews by looking at just what the iGrow laser headgear is, exactly how it functions, as well as a lot more besides. So, with no even more doubt, allow's talk igrow reviews!
If you decide to try the iRestore today, there are only two possible outcomes. First outcome – you try it and it doesn't work for you. After your 6-month trial, you send it back at no costs and receive a full refund. You don't lose a penny and you move on. But consider the alternative – what if it actually works for you and stops your hair thinning, reverses your receding hairline and helps you take back control of your hair? We think that's a future worth taking a leap of faith for. Do you?
Treating hair loss has never been easier. iGrow® is one of the most powerful 100% "hands-free" FDA cleared hair growth systems for home use and is intended for both men and women. The iGrow Hair Growth System utilizes a proprietary combination of 51 LED diodes and low level lasers to treat affected areas of the scalp by energizing unhealthy follicle cells and promoting hair growth.
Why am I reviewing the iRestore system? Because I've been dealing with thin hair since my cancer adventure 5 years ago. All my body hair fell out 2 weeks after my first chemo treatment. I was given what the nurses called the "Red Devil" (Adriamycin) chemotherapy drug. It actually came in a huge syringe and looked just like red Kool-aid. I had four treatments of that particular chemo and then I had four more treatments of another type of chemo that my Doc said shouldn't make my hair fall out again, but it did.
Fortunately, there are plenty of solutions, including products such as laser combs and other systems designed to slow hair loss while promoting new growth. We'll explore four of those products – including the iRestore Laser Hair Growth System – in this post, along with other topics, such as what to look for when buying them, and laser combs vs. laser helmets.
HairMax uses a process called Photo-Biostimulation – which it compares to the process of photosynthesis that causes plants to grow. What it does is deliver visible, nourishing light to the scalp to stimulate hair growth, which is, of course, the main point. In simpler terms, it extends the growth phase of hair (anagen) which helps create a cycle of new hair growth, as well as density and fullness.

HOW IT WORKS: Our engineers have calibrated the lasers to the optimal wavelength (650nm red light) proven to promote hair growth. The 51 medical-grade lasers and LEDs radiate light energy that is absorbed by the hair follicles to enhance cell metabolism rate and reactivate follicles to stimulate hair growth. Although it can be used alone, physicians often recommend laser therapy to be used along with other solutions (such as minoxidil, finasteride, shampoo or supplements) to accelerate growth and get maximum benefits.
Yes, I am extremely happy and wish that I had found this years ago. I don't have any connection with the manufacturer, QVC or even with this site. I found out about it from my hairdresser who had heard about it from a client. So I looked it up online and I figured that I had nothing to lose since I bought it on QVC and they are willing to give you your money back after six months trial. I found this site when looking up reviews on it. Now after just six weeks I know I don't want my money back and I can't wait to see the results when the six months are up.
Custom Baby & Kids ItemsPersonalized Kids Books,Personalized Ted...32 Custom JewelryCustom Bracelets,Personalized Earrings,P...64 Custom Kitchen AccessoriesCustom Kitchen Utensils,Custom Mugs,Pers...56 Custom Novelty ItemsCustom Bobbleheads,Custom Electronic Acc...34 Custom Photo PrintsAcrylic Prints,Canvas Prints,Custom Post...120 Personalized Bags5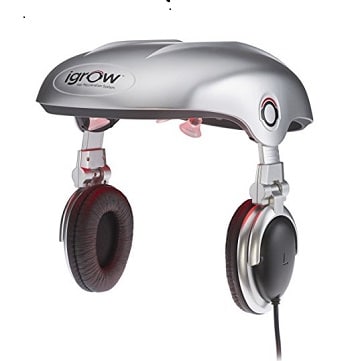 We've already discussed how to use a laser comb, but it's worth mentioning again that laser combing isn't like regular hair combing in that you only need a few passes over your scalp to do the job right. Instead, you'll need to keep combing with a laser comb for up to 10 minutes, at least three times a week. Have you ever combed your hair for several minutes? It's not as easy as it sounds, although you may build up your arm muscles in the process.
Unlike other hair laser treatments, iGrow uses a combination of LED and laser technology, at a clinically proven wavelength of 655 nano-meters. The unique design of the iGrow helmet is specially contoured to cover your entire scalp for the most effective treatment possible in the shortest amount of time. The hands-free design is much more convenient than hair-loss laser combs and the distribution of the low-level laser and LED lights inside the iGrow helmet ensures that the treatment targets exactly the parts of your scalp that need it most every time.
I've tried a few different things with the hopes that it might make my hair recover. There's Biotin, which I'm still taking once a day. I don't think it's really doing anything. I've tried some hair vitamins called Hairfluence for a couple months. They didn't really help either. The latest test has been Biotin shampoo which I've been using for a month or so without any noticeable effects. So when I was offered the chance, I was totally game to try the iRestore.
If you decide to try the iRestore today, there are only two possible outcomes. First outcome – you try it and it doesn't work for you. After your 6-month trial, you send it back at no costs and receive a full refund. You don't lose a penny and you move on. But consider the alternative – what if it actually works for you and stops your hair thinning, reverses your receding hairline and helps you take back control of your hair? We think that's a future worth taking a leap of faith for. Do you?
This product, iGrow Laser Helmet uses the LLLT technology to solve the problem of hair loss among both male and female human beings. The use of red laser in the technology is in most cases feared to cause heating effect on the users, a claim that is highly condemned by those whom have undergone the whole therapy process and come out without any heating of the head noted. The laser beam is so controlled in terms of wavelength and frequency that it is not heating up the hair follicles at any cost. However, the laser beam activates the respiratory ability of the cells at the hair follicle hence enhance the growth activities and the burning of fat at the regions around the skin.
Reduces hair loss: A good number of people with chronic hair loss bought this device. Some had prior complains of fistfuls of hair falling off whenever they washed or combed. After a few weeks of use, their hair was no longer falling off. Others complained of prior rapid hair loss. The device was able to slow down this to nil. This made some a little skeptical and were left asking "does iGrow work?" When they got rid of the device however, their rapid hair loss returned. Give it time
iRestore has been clinically studied by doctors and been proven to promote hair regrowth for men and women in a recent 2017 research study. In this clinical study, an astonishing 100% of active male and female users saw visible hair growth with an average increase of 43.23% in hair count (Scroll down to the "RELATED VIDEO SHORTS" section below to learn more)
The iGrow® Laser Hair Growth System works via the principle of photo-bio stimulation, a process by which nutrient rich laser energy is delivered to the hair follicle. This process causes a revitalization of the individual follicle, and a general strengthening of the hair. The device uses a total of 51 red and laser lights to emit the maximum amount of energy necessary to stimulate the hair follicles and effectively cause re-growth.
I was not joking but I am very happy with the Igrow and with my results. I still have superfine hair and that has not changed, but I have much more hair and more body. I have found that I get used to this new hair and forget that I need to maintain it, forgetting to use the Igrow once in awhile, until I notice I'm losing body. When I notice, I go back to using it and it has more life. The Igrow increases the blood flow to the follicles. More blood flow, more body, more hair growth.